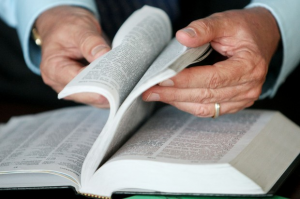 I first envisioned this Grace Commentary Series when I was about ten years old. The memory is as vivid as if it was yesterday. I was in the sanctuary of the church in which my father was a pastor, and had just come from browsing through his commentaries and books about the Bible. I was looking over the free literature on the information counter, and noticed that all of the newsletters and pamphlets were of lesser quality than the books on my father's shelves. There were some basic Bible study guides and devotional material, but little of it was of any value.
It occurred to me, however, that these newsletters and pamphlets were published on a monthly or even weekly basis and then made available for free to anyone who wanted them. Over the course of a year or two, the publishers of these newsletters probably used as much paper and ink to print one set of these study guides and pamphlets as could be used to print one full-length commentary.
I asked myself then, and still wonder today, "Why couldn't an organization, instead of sending out a monthly newsletter which was of limited value, instead send out a full-length commentary every year or two, from which the readers would greatly benefit in their study and understanding of Scripture?"
The reasons are probably numerous and varied. For example, it is probably easier for ministries to maintain a sizable mailing list by sending out monthly newsletters rather than one book every year or two.  Also, in a sound-bite society, there may not be as much demand for a in-depth analysis of Scripture as there is for short stories and ministry updates that can be read and digested in less than five minutes. So for these and other reasons, most ministries and organizations continue to send out the monthly newsletters.
The internet is changing all this.
Today, with the aid of email and the World Wide Web, it is entirely possible to do both. A ministry can send out free monthly newsletters by email, can post online updates to full-length books they are writing, and also send out free copies of books when they are published.
This is some of what I am doing through my TillHeComes.org blog, and the GraceCommentary.com websites. I have a free email newsletter which comes by email, and I try to send out 3-4 free ebooks per year. As I write my Bible Commentaries, I post each section online for people to read and interact with, and when the commentaries are done, I send out free digital copies to the subscribers on my email newsletter. Books that were sent out previously are made available for sale on Amazon at a nominal price, simply to cover some of the expenses of having a website.
Also, since some people really prefer paper copies of books, these are available for sale on  Amazon.com as well. Due to the cost of printing, I am not yet able to make the paper books available for free to anyone who wants them. Maybe someday. In the meantime, make sure you sign up to receive the free email newsletter to get all future ebooks for free.
Another nice thing about an online commentary is that I can constantly update and add information to what is online, and can also hear back from those who read the commentary who seek further clarification about something I wrote, have questions I did not answer, or simply want to disagree with a conclusion I came to. If this describes you, feel free to leave your question or comment in one of the pages on this website.
---