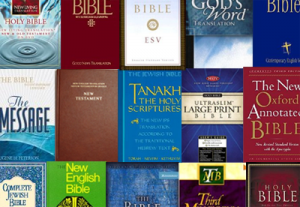 What Bible translation is being used for the Grace Commentary? I will be using the Grace English Bible. Never heard of it? That is because along with writing a full-length commentary on Scripture, I will also be writing a brand new translation of the Bible.
But a new translation is the last thing we need, right?
Actually, a new translation is exactly what we need.
A New Translation of the Bible
I agree with C. S. Lewis who wrote that "If we are to have translation at all we must have periodic re-translation. There is no such thing as translating a book into another language once and for all, for a language is a changing thing" (God in the Dock, 230-231).
I have no illusions that my translation will be the best Bible translation available, or that it will be used by a large number of Christians for hundreds of years to come. Such an outcome might actually lead to some negative consequences, much as the sole reliance by some Christians upon the King James Version has led to some poor theology and poor practices. I am all for new translations and the reworking of older translations so that people can always read and study Scripture in the common language of their day.
I have written more over at the Grace English Bible website about the methodology and goals of my Bible translation, but let me state that one other reason I chose to prepare a new translation was cost. Most of today's available translations charge exorbitant fees if a published or online work reprints more than a certain percentage of the translation. Since one of my goals for the Grace Commentary is to eventually write commentary on the entire Bible, this means that if I were to use a translation like the New King James (NKJ), or the New American Standard (NAS), I will eventually end up reprinting 100% of the text of those translations, and would have to pay the accompanying fee. There are a few translations which do not have this fee, such as the King James Version (KJV) and the New English Translation (NET), but I have too many translation issues with each, and had I used them for the text of my commentary, I would frequently find myself saying, "I disagree with the translation on this verse, and here is why." I think this would become tiresome to write, and more importantly, tiresome to read.
So I chose to prepare my own translation, the Grace English Bible. It is free to use, and best of all, since it will primarily be an online translation, I can change it any time I want to reflect new insights into Scripture, or any corrections that might be necessary as I learn more about the nuances of Greek and Hebrew. You, as the reader, can help as well. If you do not like the way a translation is worded, or think there might be a better way to turn a phrase, simply go to the proper web page at the Grace English Bible website, and leave your suggestion as a comment.
I look forward to seeing how this translation of the Bible evolves over time.
---