Once upon a time, in a forest not too far away, a rabbit was boasting to some other animals about his great speed. "I could beat any animal in a race!" he said.
"I will race you," the tortoise quietly offered.
The rabbit laughed. "This is a good joke!" he said. "I would dance around you all the way!"
"Keep your boasting until you've won," said the tortoise. "Shall we race?"
I will not finish the story, because you know how it ends. You have likely heard the story of the Tortoise and the Hare dozens of times before, and from the very first sentence above knew where the story was headed and how it was going to end.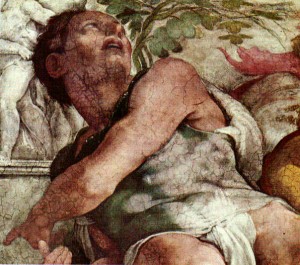 The same thing happens with the story of Jonah. The biblical story of Jonah is well-known. It is one of the first Bible stories taught to children in Sunday school, and even those who do not attend church are somewhat familiar with the story of a big fish who swallowed a man whole and then spit him up on dry land. Those who have been involved with church for longer periods of time have probably heard the story told and retold so often, that it has become commonplace. When yet another pastor gets up and invites the congregation to turn to the book of Jonah, there are some in the pews who groan inwardly to themselves, thinking Not again! I have heard this story so many times I'm ready to puke—just like the fish puked up Jonah. And then for the rest of the message, their mind wanders elsewhere, thinking about where they will go to eat after the service, the business meeting tomorrow morning, and who is going to win the football game this afternoon. When it comes to the story of Jonah, the old proverb is true: "Familiarity breeds contempt."
Yet I am convinced that the average person has no idea what the story of Jonah is actually about. Though it is one of the most well-known stories in Scripture, it is also one of the most misunderstood.[ref]Bewer 1912:
3.[/ref] Most often, pastors and teachers explain the story of Jonah as if it were about world missions.[ref]Alexander 1988:
85.[/ref] "God wanted to reach the people of Nineveh," they say. "And so God sent Jonah to preach to them. Jonah did not want to go at first, but when he finally went, there was a great revival. Today, God wants to reach the people of Zimbabwe (or some other nation), and He wants you to go. Are you going to be reluctant like Jonah? Or are you going to let God use you to bring revival to that foreign country?" Usually, this is how Jonah is taught. Not surprisingly, with this as the message, the book of Jonah is popular when pastors and missionaries are trying to get more people to financially support missions or trying to get more people to sign up for the short-term missions trip.
The other popular way the story of Jonah is often taught is as a litmus test for whether or not people believe in the inerrancy and historical accuracy of Scripture. Bible critics scoff at the idea of Jonah being swallowed by a fish, as well as some of the other fantastical elements of the book, such as Jonah's preaching being understood by the Ninevites, the rapid growth of a plant, and the fact that the later prophets which spoke against Nineveh seem to be ignorant of any former national repentance.[ref]Bewer 1912:
4.[/ref] They point to such events as evidence that the book of Jonah is a fairy tale, a made-up story for the amusement of little children and ignorant generations of the past who thought such things could happen. Julius Bewer calls it a "wonderland" and says that the story "is a prose poem not history."[ref]Bewer 1912:
4.[/ref] Martin Luther himself viewed the story as nonhistorical.[ref]Allen 1976:
178.[/ref] Numerous others have described it as allegory, parable, or legend.[ref]Alexander 1988:
70; Bullock 1986:
44-66; Harrison 1969:
905-914; Sasson 1991:
327-340. T. Desmond Alexander includes an excellent defense of the position that the author of the book of Jonah believed he was writing actual history. See Alexander 1988:
69-77.[/ref]
Pastors and teachers who want to defend the accuracy of Scripture often spend a lot of time seeking to prove that humans really can be swallowed by big fish.[ref]See some of these historical accounts in Harrison 1969:
907.[/ref] They go on to point out that Jesus believed Jonah was swallowed by a fish (Matt 12:40), and if the critics are right, Jesus was wrong. And if Jesus was wrong about this, then maybe Jesus was wrong about everything, and we cannot trust Jesus, the Bible, or God Himself, and have no firm foundation for our faith. Therefore, so that we do not shipwreck our faith, we should believe God, the Bible, and Jesus, and believe that Jonah was swallowed by a fish.[ref]See the discussion of Matthew 12:40 as it relates to Jonah in Allen 1976:
194-197.[/ref]
I can say with complete confidence that this is not the point of the story of Jonah. It is not even a proper application of the story. While I do believe the historical accuracy of the story—that Jonah really did exist and really was swallowed by a fish—my faith would not be shaken if such events turned out to be untrue and the story of Jonah was proven to be nothing more than a "parody or satire."[ref]Allen 1976:
178.[/ref] The question of the historical accuracy of Scripture, which so consumes the minds of many modern biblical scholars, is "a relatively modern development"[ref]Alexander 1988:
71.[/ref] and was not an issue until a couple hundred years ago when critics began to challenge the historical reliability of Scripture. Up until then, it is not that people consciously believed or disbelieved in the accuracy of the Bible, but that they didn't even ask the question. Therefore, using a particular passage of Scripture or book of the Bible to prove the accuracy of Scripture is to use the text in a way it was not intended.
This is not to say that we should not seek to respond to the critics of Scripture. We can and we should. There are very good answers to the questions they ask and some good arguments for the historical reliability of Jonah.[ref]For a summary of some of these arguments, see Hannah 1985:
1464.[/ref] But we must be careful about teaching any passage of Scripture in a way that makes that passage mean something it never meant. This is the case with the story of Jonah. When we understand the story, the questions of whether or not Jonah was actually swallowed by a fish, and how many people actually lived in Nineveh, fade away into irrelevance. This will become evident in the commentary below. The central truths of the story of Jonah do not depend on the story being historically accurate.
So if the story of Jonah is not about God's mission to the world and is not about the historical reliability of Scripture, what is it about? Well, like any good story, we must not destroy the ending by giving it away to soon. The Book of Jonah must be savored and enjoyed as it was written, with the readers watching the plot develop, asking the questions raised by the text, and in the end, learning what Jonah is all about.