One reason I am writing this Grace Commentary is to feel out and flesh out a new approach to God that I have been mulling over in my head.
---
Is God a Sum of His Attributes?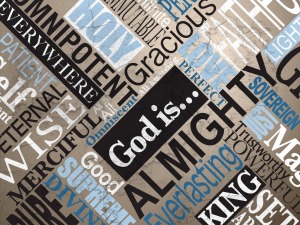 Probably the primary area of theology that has changed in the past few years is my view of God. I used to think of God as the sum total of His attributes, and depending on what point in theology I was trying to make, I would focus on one attribute or another. If you look in most theology books, this is how God is viewed. The sections on "Theology Proper" are often little more than a cataloged list of God's characteristics and attributes. The one God is then a sum of all His attributes.
I also had a hierarchy of attributes to God, which helped shape my understanding of Scripture.
For example, when I was a hyper-Calvinist, I viewed the Sovereignty of God as His primary attribute. It was at the top of the list. However, about twelve years ago, I began to move away from Calvinism by seeing that IF Scripture lists one attribute of God as primary, it would be the holiness of God (cf. Isa 6:3; Rev 4:8).
Wholly Holy
Transitioning from viewing holiness as God's primary attribute rather than sovereignty caused a seismic shift in my theology. If God's primary attribute is sovereignty, then God can do whatever He wants, and it is okay for Him to do it, even though it may appear sinful to us. You will often hear Calvinists say that God causes things like rape and murder, but He is not the author of such things.
However, if God's primary attribute is holiness, then God must abide by the same standards of morality that He has given to mankind, and therefore, there are certain things He cannot do. Things like rape and murder must then have a different explanation than the Calvinistic answer of such acts being "part of God's eternal, perfect, yet inscrutable plan."
Dissecting God
Then, around 2006, I began to develop doubts about this whole approach to God. If someone wanted to describe me as a person, a list of my attributes and characteristics would be more of an insult than anything else, especially if they listed one attribute as "primary." After all, if God had wanted us to know Him by knowing a list of His characteristics and attributes, He would have given us that list Himself.
But He did not.
Instead, He gave us the Bible, which is an account of what He has done. It is a book of divine acts. The pinnacle of these acts, of course, is the incarnation of Jesus Christ, the coming of God to earth in the flesh. And Jesus Himself said, "If you want to know the Father, look at me, and the things I do" (John 14:8-11).
Even Jesus, when He explains how to know the Father, doesn't say "Here is a list of divine attributes." Instead, He says, "Look at the things I do and that will help you know the Father."
Can we take the things God does in Scripture and classify and categorize them into a list of divine acts and attributes? Sure. Will it help us understand and know God? Yes, but only in the way that dissecting a frog helps us understand a frog. If you really want to enjoy the wonder of a frog, you have to watch him swim, jump, sun himself, and catch a fly with his tongue.
It is the same with God. We must stop dissecting God in the hopes of understanding Him by means of a carefully cataloged list.
Relational God
We understand and know God the same way we know anything, through relationship. Through walking with Him and talking with Him. Through watching how He has worked in history and looking for similar (but not identical!) divine acts in our own life.
The fact that God is Triune proves that relational interaction is vitally important to God. Before God ever created mankind or the angels, God the Father, God the Son, and God the Holy Spirit were interacting with one another for all eternity. This tells us God has been in a give-and-take, interactive relationship for all eternity.
This view of God leads to a vastly different view of Scripture, which I will begin to develop in the next post.
---