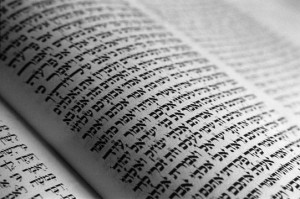 Ultimately, this commentary is an attempt to flesh out a new approach to Scripture which I call Redemptive Incarnational Hermeneutics. This is an approach to Scripture I have been thinking through for about two years now. But recently, I have stumbled across several authors and teachers who already use elements of this approach for quite a while. (One author I have not yet read is William Webb, who has written about Redemptive Hermeneutics.)
Redemptive Incarnational Hermeneutics
My current thinking to this approach is as follows:
The Bible is first and foremost a history of God's actions on this earth. It is not primarily a book of theology, a roadmap to life, or a big book of divine promises. Instead, a single story is told over and over throughout Scripture. This repetitive story is one of "redemptive incarnation."
Redemption: The history of Scripture reveals that nothing and nobody is beyond the scope of redemption. I believe that Scripture reveals that although not everything will be redeemed, everything is redeemable.
Incarnation: God accomplishes this redemption through incarnation. He takes a person, a place, a culture, a nation, a practice, or an event, and injects part of Himself into it. When this happens, beautiful new creations emerge. The original element (whether a person, place, culture, nation, practice, or event) does not cease to exist, but is transformed into something entirely new.
We must look for this story of redemptive incarnation to occur in our own time. Rather than try to copy the redemptive actions recorded in Scripture, we must seek creative redemption of our own lives, times, and cultures through new and unique incarnational activity today. Scripture helps us accomplish this by revealing what has been done in the past.
As I read the New Testament, especially the book of Acts and the Letters of Paul, Peter, and John, it seems that they were injecting Christ into the various cultures they found themselves in. They were reincarnating the incarnation. The book of Acts shows the early Christians trying to be the Body of Christ in their Greco-Roman culture. They are not trying to exactly duplicate the life and ministry of Jesus, but were re-adapting how He lived and what He said to the various cultures they encountered.
Similarly, God did not intend for us, 2000 years later and two continents westward, to duplicate the life and ministry of Jesus, OR the life and ministry of the apostles and early church. In other words, Jesus was the Christ and did what He did as Christ. The church is supposed to be the Body of Christ, and must do whatever it can to be Christ to the world. To try to duplicate Christ or duplicate the early church (aside from being impossible) is nothing more than abandoning our calling and the world we now live in.
Instead, we must look at what they said and did, asking ourselves why and how, then follow similar (but different) means for being Christ in our time and our culture. This requires Spirit-inspired creativity.
We can neither bring Scripture straight over from what we read in the text, (as in some churches who try to "get back to the New Testament church" or others who try to follow all the commands of Scripture without regard for context), nor find the objective truth kernels within the text to bring over into our own culture and context. Instead, we read to see how they solved their dilemmas and lived for God in their context, then use similar strategies today. I believe that historical and cultural background studies will prove the most beneficial in this area, and so that will always be my primary focus. If the text is a record of God redeeming the elements and people of a particular culture, we must understand the culture itself before we can understand how God redeems the people, events, and places of that culture, and how He is redeeming people and cultures of today as well.
If you are wondering, this commentary will also engage in some literary analysis, as well as some textual, source, redaction, and form criticism. But in general, my experience with these sorts of studies is that they tend to obscure the meaning of the text more than illuminate, and so they will be used sparingly.
Transforming Mission
Two years after I had written the post above, I read the following in the book Transforming Mission by David Bosch. Regarding the early church, he says that
They handled the traditions about [Jesus] with creative but responsible freedom, retaining those traditions while at the same time adapting them. If we take the incarnation seriously, the Word has to become flesh in every new context ([contentblock id=1 img=html.png]21).

We can neither apply Jesus' words and ministry on a one-to-one basis to a fundamentally different world nor just deduce 'principles' from his ministry. Rather… we are challenged to let Jesus inspire us to prolong the logic of his own ministry in an imaginative and creative way amid changed historical conditions ([contentblock id=1 img=html.png]34).
When I first read those quotes from Bosch, I just about fell out of my seat. They were almost word for word what I had been thinking for years.
But What About…?
The primary problem with this approach to Scripture is what it does to our interpretation and application of Scripture. If Scripture is a record of God's actions in history, and most of it is bound by culture, what, if anything, does Scripture have to say to us today? I can hear the questions beginning to form: "But what about this passage in Romans? …How about that verse in Leviticus? …Won't this allow people to disregard Exodus 20?"
All I can say for now is, "Read the commentary and find out!" This approach to Scripture turns out to be more authoritative and helpful than most might believe.
Of course, this commentary is a massive undertaking, and getting to every passage will take quite a while. Even if I average 10 verses a week (an aggressive goal!), finishing the entire Bible will take over 60 years!
So I better get started…
---