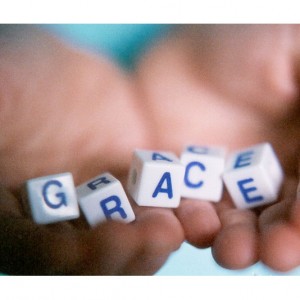 My new approach to people can be summed up in one word: GRACE.
Though I used to speak, teach, and write a lot about grace, I wasn't so good at showing it. I used to have high demands of people, expecting them to study the Bible as much as I did (even though I was a pastor, and getting paid to study!), to have all their problems worked out (even though I didn't), and to be fully committed to the church (my definition of "church").
I forgot that we are all different, with different gifts and personalities, and we are all at different places on the path of discipleship (which is a many-forked road). It took several years of God battering my heart for me to begin to soften.
There is still a lot of work for Him to do, but I now try to love all people with the love that I think God has for them. The love of God for people is pervasive in Scripture, and I hope to bring some of that out in this study.
Of course, I will never love with the perfect love of God, but I am trying to accept people for who they are, and love them just as they are. I try not to love some future version of them ("Well, I love you now, but I will really love you once you stop swearing."). I try to respect the perspectives and viewpoints of others, and listen to what they have to say, even if I disagree. I believe that if I listen properly, I can learn the most from the people I disagree with the most.
And that is one reason for this Grace Commentary. I want people who agree with me and those who don't to get involved. I want those who are "Bible experts" and those who have never read the Bible to weigh in. I want followers of Jesus and followers of Buddha to provide their insights. I want people who think they have it all together and those who clearly don't.
This new approach to people pertains to this Grace Commentary website because as I have allowed people to be themselves, and as I have learned to listen to others — even those I disagree with — I have found that other people — even unbelievers — have great insights into Scripture. Sometimes non-Christians bring up insights and objections that Christians never will. So graciously involving other people in the study of Scripture helps me both learn and live the Scriptures.
So jump on in! Let's learn together!
---